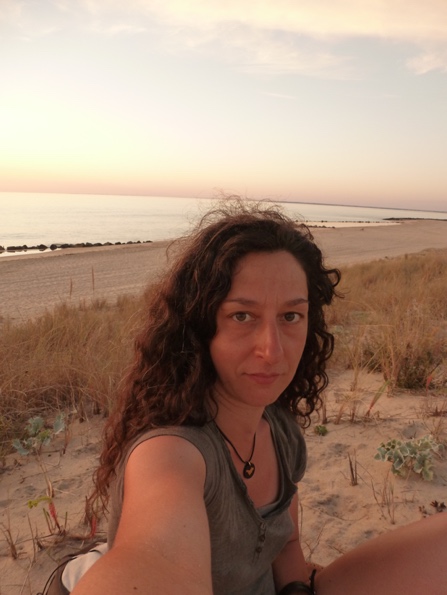 HÉLÈNE GUYOT
I graduated from the National School of  Arts from Bourges (France) with Honor in 2003 (school of Beaux-arts)  I also studied French Modern Literature and philosophy at the  University of Paris IV. I'm a teacher and artist.
I have a wide variety of experience having spent a great deal of time conducting workshops for children and teenagers, using  a multitude of mediums. Etching, serigraphy, graphic, sound design and  video is just a few.  I 've also been teaching to children with autism and  cognitiv problems, a very enriching experience.
I used to do  digitial graphic design and imagery as I loved the fluidity of digitial light as I shaped, framed  my design. However now my interests and palate are more colorful and joyful,  allowing a balance that transcends my medium and allows me to express through art the belief that joy can sleep in the drama of life and drama can hide in joy.
My love and passion for art comes naturally as my father was an artist, painter and engraver and my mother a weaver. As a child I lived in a house in the countryside with a beautiful garden that overhung a big valley and river and it was there that I learned the joyful energy that is hidden in the drama of life.
This place holds a special place in my heart as it is those memories, coupled with the human experience and my  work with  children that serves as a background and fuel for my art.
It is through Art and Literature that I am able to link the words and pictures, drawing about thoughts, and telling stories that captivate the senses; thoughts that create a stream of consciousness that takes the form of the human face. My inspiration comes from life and humanity and all that strike me in the world,  by drawing  I oppose to the world turmoil's  and strife the resistance of fragile and delicate things in the world….
Please feel free to contact me regarding any commission, collaborations, interest in buying drawings, or just to say hello…
helene.g@orange.fr